Cambodia Service-Learning Program Schedule
GSC's two-week, short-term, long-term, and semester volunteer programs in Cambodia all begin on a Monday and end on a Sunday. Participants must arrive in-country no later than the Sunday before their Monday start date. The last night of the program is a Saturday with departure on Sunday.
2019 Dates*
| | | |
| --- | --- | --- |
| January 13 | June 2 | October 13 |
| February 3 | June 23 | November 17 |
| March 10 | July 7 | December 15 |
| April 21 | August 25 | |
| May 19 | September 8** | |
*Start dates are tentative and may change               **Normal Program + Special 25th Anniversary Program
2018 Volunteer (Tax-Deductible)* Program Rates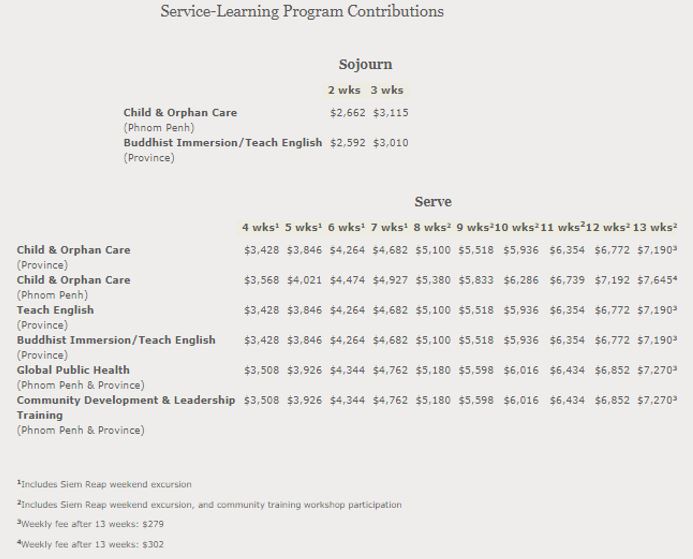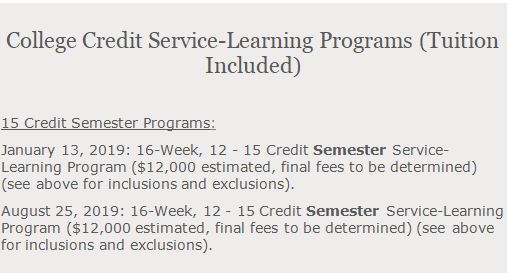 Volunteer Program fees include: Airport pick-up and return; project transportation; housing accommodations; all meals; introduction to Khmer language; cultural orientation and project preparation guidance; participation in community trainings; support and donations to local partner organizations; service-learning project administration; and, weekend workshops and excursions to Siem Reap and Angkor Wat for programs four to eight weeks or longer.
Volunteer Program fees do not include: Airfare to Cambodia** ($1,000-$2,500), travel insurance** ($150-$350), background checks (required for all participants) ($15) and Cambodian visas** ($20-$100).
*Please note: These costs are estimates. Actual prices will depend on program length, your chosen vendors, visiting country's governmental regulations, and other factors beyond GSC's control.
*All program fees, including airfare, may be tax-deductible to the full extent of the law.
Group Discounts (2 or More People) for Service-Learning Programs
Bring family and friends… and save! If a service-learning participant brings a friend or family member, the initial participant will receive a discount of 10% off the second participant's fees. Discount applies for each additional referral, so the more friends you bring, the cheaper your service-learning program becomes! (Participants referred must start projects on the same date for the discount to apply, but may work on different projects.) Please contact us for large group discounts (8 or more people). Returning volunteers also receive a discount of 10% off the fees of their second program. Please note that group discounts do not apply for using the Segal Award.
Fundraising Assistance for GSC Volunteers
It is possible to raise part or all of your programs fees through a variety of fundraising activities! It has been done in the past by many GSC volunteers, and we have put together a fundraising toolkit to get you started. Inside this toolkit you will find a history of GSC and its successful international service programs, examples of successful fundraising activities, sample fundraising letters, and useful internet and printed resources. Please fill out a Request for Information Form and note in the "What can we help you with?" field that you would like to have the GSC Fundraising Toolkit sent to you.
To request more information, click Here
To apply for a program, click Here
To email GSC, click Here